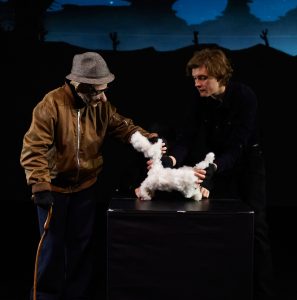 On Thursday, January 25th we are booked to see It's Dark Outside by the Perth Theatre Company.  This production is brought to Vancouver by the Vancouver International Children's Festival.  The performance will be at Waterfront Theatre in Granville Island.  The performance starts at 10:30 a.m. and is an hour in length.  The cost per ticket is $12.25.
The description of the play from the festival website states:  "As the sun sets, an old man goes wandering into the wild. Swept up in a surreal epic Western, he is on the run from a mysterious tracker who is bent on hunting him down!
Created by the same team that brought the hit (and sold out!) show The Adventures of Alvin Sputnik: Deep Sea Explorerto the 2015 PuSh Festival, It's Dark Outside is another great adventure.
It's Dark Outside uses a creative and ever-surprising blend of live performance, puppetry, animation and an original music score. The performers tell the story of an old man chasing his memories as they escape into the wild "with poetic insight and lightness of touch that makes it moving and uplifting to watch" ."
The sign-up sheet is posted and consent forms are on the parent table.