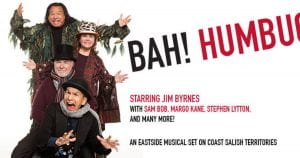 On Thursday, December 5th the Intermediates will be going to the afternoon performance of Bah Humbug!  The play starts at 1:00 p.m.  Please arrive at least 15 minutes prior to the performance.  There will be class in the morning.
BAH HUMBUG! takes place in the Fei and Milton Wong Experimental Theatre at the Goldcorp Centre for the Arts – 149 West Hastings Street. The theatre is located in Room B2290, on level B2, and is accessible via the stairs or the elevator. Washrooms are also located in level B2.
School Matinees run 75 minutes with a following 10-15 talkback. Please arrive 15-30 minutes before your performance.